Our mission at the MRC is twofold:
1. We will develop and maintain a collaborative environment where non-profit agencies are empowered to serve the community.
2.  We will be a place where residents can receive a variety of life-giving services and feel empowered to take control of their lives.
Office space for rent Holland MI – Macatawa Resource Center has office space & suites for nonprofits and for-profits!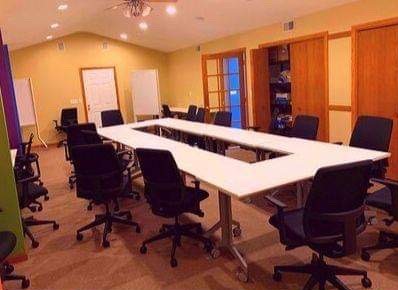 Affordable office space for rent in Holland, Michigan can be difficult to locate but the Macatawa Resource Center has the facilities you need to start and grow your non-profit! Our 30,000 square foot facility has multiple types of space available for local non-profits and businesses on our five-acre compound.
We lease large and small office space, large and small warehouse space, food-grade warehouse space, loading docks and logistics capabilities at below-market rates for non-profits and community businesses. The Macatawa Resource Center offers kitchen space, community space, and short term conference space for corporate events, community courses, office potlucks, team meetings, and brainstorming exercise programs.
Rental rates include:
Electric
Heating/Cooling
Internet
Parking
Furniture
Trash Removal and Recycling Service
Snow Removal
Grounds Maintenance
In addition, organizations have equal access to:
Copier and Fax
Free common areas including kitchenettes
Handicapped accessible entrances and restrooms
Children's room
Storage
USPS Mail Drop Box
On Max Bus Route 2, both incoming and outgoing
Easy US-31 Access
Reasonable renovations for those signing a long-term lease
Minutes away from downtown Holland, Michigan!
Remember that we don't just have office space for rent… Check out some of our conference rooms below! Usage of these office spaces comes with A/V hookups (your own A/V equipment will be necessary), use of common kitchen areas, and reasonable rates! Schedule your meeting with Leroy today!
Our conference rooms are also available to the public at a $20 per hour rate. Great for business meetings or social activities.
Would you like to contribute?
Macatawa Resource Center helps many nonprofits and new for-profits get established which ultimately improves our communities. If you'd like to make a contribution, please click below to be transferred to PayPal's secure donation site to make your donation.